Are you on the air fryer bandwagon? Of course, you are! Because who doesn't love all the fried goodies without the fat! And if you aren't then you are missing out and are being left out of a select group of people.
Air frying is not only about the deliciously tasty food but also about innovative cooking and speaking of, you need to try the Emeril AirFryer!
If you love your fried food, then get ready for fried goodness that only takes a fraction of the amount of oil and is SO much better for you! Air Frying is perfect to have those around you started off on a whole new way of eating. And the Emeril AirFryer definitely makes all your air frying wishes come true.
Who Is Emeril Lagasse?
Before we get to this fantastic air fryer, first things first, just who is Emeril Lagasse?
The 60-year-old Massachusetts native is a celebrity chef and Food Network TV personality. The award-winning chef is also a cookbook author who won the hearts of audiences around the globe thanks to his cooking abilities and charismatic persona on long-running shows like Emeril Live and Essence of Emeril.
The restaurateur, who is widely recognized due to his signature catchphrases; "Kick it up a notch!" and "Bam!" -is a master of Creole and Cajun cuisine.
Lagasse, the son of a French-Canadian father and a Portuguese mother; discovered his talent in the kitchen as a teenager, while working in a Portuguese bakery. Soon after he enrolled in a culinary arts program and later attended Johnson & Wales University. He even ditches a scholarship to the New England Conservatory of Music in hopes of becoming a chef.
His decision certainly paid off, a year after his graduation, he was named Executive Chef at the Dunfey's Hyannis Resort. Since then, Emeril has had success after success. From cooking shows, TV and film appearances, cookbooks, restaurants to merchandising and endorsements; he has done it all.
According to online info, between his restaurants, products and media; he generates more than 100 million in revenue every year.
So is no surprise that now, he even has his very own air fryer! That's right the Emeril AirFryer 360!
Emeril Air Fryer 360
The multi‐cooker represents the new generation of all‐purpose counter-top kitchen appliances. The Emeril Lagasse Power AirFryer 360 is shaped like a traditional toaster oven, it's actually a versatile multi-cooker with about a dozen modes.
The stainless steel Power AirFryer 360 is designed to replace nine different appliances. 12 pre-set cooking functions including air fry, rotisserie, dehydrate, bake, broil, toast, roast, make pizza, slow cook, bagel, keep warm, and reheat reflect Chef Emeril's belief that every home kitchen deserves an oven that offers a wide range of custom cooking capabilities.
This awesome appliance has not only produced the latest, state-of-the-art technology in kitchen electrics, it marries a very old concept – delicious, heartwarming meals – with cutting edge innovation, which is extremely fast and precise.
The Emeril Lagasse Power AirFryer360 became available to major retailers in the Summer of 2019.
Emeril Air Fryer 360 is available at Amazon for $159.98
Prior to the AirFryer360; beloved chef Emeril -had launched at least two other different air fryer models. Check them out below.
1. Emeril Lagasse AirFryer: 6-Quart, Hot Air Fryer by Emeril Everyday with 8-in-1 Cooking Presets and LED Digital Touchscreen, Crisp, Bake, Roast, Broil, Reheat and More, 1700 Watts – Stainless Steel (6 QT). Get it at Amazon for $119.99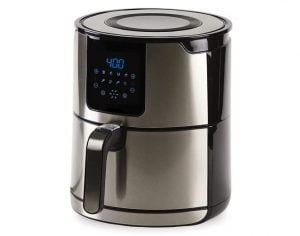 2. Emeril Everyday 8 QT With Accessories Pressure Air Fryer, 5 Pc Pack, Silver. Get it at Amazon for $199.99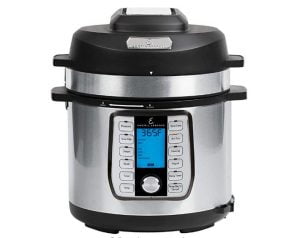 Emeril Air Fryer 360 Comparisons
Check out the table below comparing the Emeril AirFryer and other brands.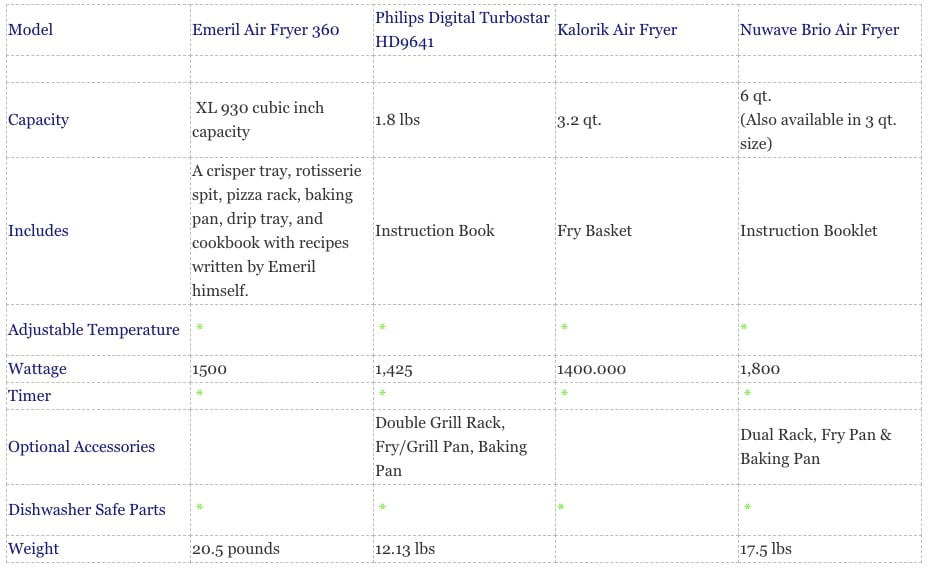 Emeril Air Fryer 360 Cookbook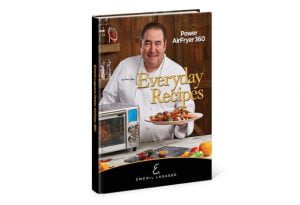 Emeril is often regarded as America's beloved Chef, so for any real foodie having his book at home is a real treat. If you've decided to get yourself an Emeril AirFryer then his book is a must!
You can enjoy a complete collection of easy-to-follow recipes, it will be like having Emeril cooking for you every single time. Ok, ok let's not get carried away, but it is certainly the next best thing to that!
With the AirFryer having multiple options it will certainly make it a lot easier to get not only antiquated with your new toy but also habituated to uses to its full extent.
You'll be amazed at how easy it is to follow his recipes and be sure there is one for every occasion. With the book, you'll also realize how versatile the air fryer is, you'll be able to bake, roast, slow cook, pizza, dehydrate, and more.
Think of all the appetizers, crisp pizzas, hearty soups, casseroles and decadent desserts -you, your family and friends will have.
Furthermore, Emeril's 360 Air Fryer is available at Amazon for $19.99.
Emeril  Air Fryer Top Recipes
Truth be told, every single Emeril recipe is simply delicious which really makes it hard to choose from! However, after doing some cooking and delight family and friends with his dishes, here are a few fan favorites!
In the mood for something delicious and gourmet? Why go out when you can recreate top chef Emeril's very own divine creations!
Tired of the same meals? In the mood for something meaty? Try this delicious Emeril AirFryer Steak Roulade Recipe!
In the mood for something yummy and sweet? Why go out when you can make it at home! This fantastic and easy Emeril AirFryer Steak Roulade Recipe, in our opinion is one of the best desserts to finish that meal.
Emeril AirFryer White Chocolate Macadamia Bread Pudding Recipe
How does a cornish hen sound for dinner? Now you can make your own using Emeril AirFryer Cornish Hens Recipe!
Sign up for our AirFryer Recipes Newsletter and automatically receive our latest & greatest delivered right to your inbox! Follow AirFryer Recipes on Facebook, Twitter, Pinterest and Instagram for all of the newest articles, recipes and meal plans!
Moreover, we love to hear from you so if you make an AirFryer Recipe make sure you take a picture and share it on Instagram with @theairfryerchef.