If you're craving chicken wings and you own an air fryer then you are in luck! Because you can cook air-fried frozen chicken wings.
Chicken wings made in the air fryer are the best. Is not only super easy and fast to make them but you end up with delicious, perfectly crispy, restaurant-like, pure chicken wings perfection!
There are a lot of ways to make crispy, yummy air fryer chicken wings, you can easily browse for a recipe and follow it. Or, you can also make it your own with a couple of twists. Most importantly when using the air fryer you'll be using, very little to zero oil and that's what makes air fryer chicken wings so popular!
It doesn't matter if you have fresh or frozen chicken, you'll still end up with the best, super crispy chicken wings.
If you are new to the air fryer chicken wings game, below you'll find out everything you need to know!
How Long To Cook Frozen Chicken Wings In The Air Fryer?
Fried chicken wings are one of the favorite things to make in the air fryer. Think about it, is healthier, quick and with a couple of tips and tricks, you obtain amazing results! Delicious and perfectly crispy chicken wings, you'll be hooked!
Forget about the oil-fried kind because making chicken wings in the air fryer does not compromise flavor or texture! It's almost magical.
Who doesn't love chicken wings, these are the perfect snack to enjoy with family and friends or by yourself! These are also quite versatile; there is certainly nothing boring about chicken wings, from chicken wings with Buffalo sauce, chicken wings with honey bbq sauce or chicken wings with garlic Parmesan coating. The options are there for you to pick.
Are you inspired yet?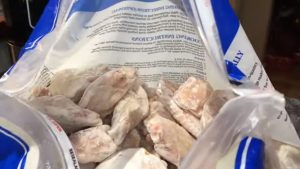 When dealing with frozen chicken wings, you may need to do an extra step to get golden and delicious wings.
Because frozen wings have a ton of excess water, and that is not the optimal environment for crispiness, here's what you can do:
Place the frozen wings in the Air Fryer basket and cook on 400 degrees Fahrenheit for 30-35 minutes turning every 5-7 minutes.
Halfway through cooking, remove the Air Fryer basket and drain the excess fluid. Once you got rid of the liquid in the bottom of the basket, return the basket to the base and start Air Frying again. Cook until your wings are fully cooked and your desired crispiness.
The draining of the liquid is an optional step and it really depends on the type of air fryer you own; as there are some that give you crispy wings even without the additional step.
How Many Wings To Cook In The Air Fryer?
To know the exact number of how many wings to fit in your air fryer it also depends on how big your specific air fryer is.
A lot of people often cook up to 18 to 20 wings. If they overlap or if you have to lay a few on top, the wings will still get crispy so long as you turn them every few minutes. However, while you can stack your wings is not very recommended.
The best option if you want crispy wings, can be to cook in batches. Many opt to cook 7 to 9 wings at a time and make two batches.
Keep in mind, since the air fryer cooks by moving hot air quickly over the food, you'll want to keep as much part of the food exposed to the air as possible. In other words, the more skin is exposed the crispier your wings will get.
How To Make Air Fryer Wings From Fresh Chicken Wings
Air frying makes cooking fresh chicken wings super easy and fast. You can enjoy perfectly crispy chicken wings any day of the week with hardly any effort even on hectic weeknights!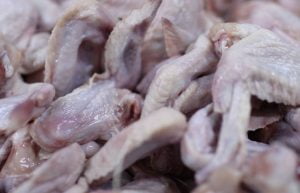 In 30 minutes or less, you can whip up crispy and yummy wings great for Game Day, family dinner or parties. All you have to do is follow a few simple steps.
Preheat the air fryer to 400 degrees for 5 minutes.
Pat dry chicken wings before placing them in the air fryer.
Use a paper towel or pastry brush to brush the inside of the air fryer basket with vegetable oil. (Skip this step if your wings are not breaded)
Next, place the chicken wings in the air fryer. It's ok if they overlap or work in batches if you need to.
Season with salt and pepper and cook on 400 degrees Fahrenheit for 25-30 minutes.
Shake the chicken wings every 5-7 minutes. Cook until wings are desired crispiness and have at least reached a temperature of 165 degrees Fahrenheit.
Remove from the air fryer. You can eat them just like this and they are amazing or you can toss the wings in your favorite sauce and place back in the air fryer for 2 minutes on 400 degrees Fahrenheit.
Do I Need To Pre-heat My Air Fryer?
Again, it utterly depends on the specif air fryer you own. All air fryers come with instructions on whether it should be preheated or not. So, is best for you to follow those instructions.
Having said that, as a general rule, your wings will be fine even if you don't pre-heat. What you can do is to try, both ways and see if there are any big differences so you can choose the best option for you.
What's The Best Breading For Chicken Wings?
If you desire to give your wings an extra or several layers of crunch, then breading is the way to go for you.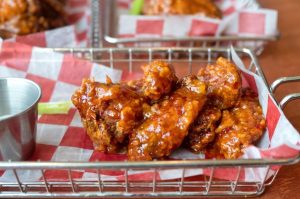 Luckily there are several options regarding breading. Among those options we can mention:
Cornstarch
White rice flour
Baking powder
Granulated sugar
Potato starch
Flour
Crushed pork rinds
Best Frozen Air Fried Chicken Wings Recipe
Check out below our top picks for the best-frozen air fried chicken recipes. With these recipes you'll certainly impress everyone at your next gathering. Frozen chicken wings never tasted better!
Looking for a delicious, sweet, crispy and spicy chicken wings recipe? Then you need to try this yummy air fried chicken wings recipe, it is so crispy and delicious it will become a family favorite.
https://airfryerrecipes.net/recipe/crispiest-air-fried-chicken-wings/
Who doesn't love chicken wings and with the next recipe you'll be making them whenever you want because it's so easy!
https://airfryerrecipes.net/recipe/easiest-air-fryer-frozen-buffalo-chicken-wings/
Sign up for our AirFryer Recipes Newsletter and automatically receive our latest & greatest delivered right to your inbox! Follow AirFryer Recipes on Facebook, Twitter, Pinterest and Instagram for all of the newest articles, recipes and meal plans!
Moreover, we love to hear from you so if you make an AirFryer Recipe make sure you take a picture and share it on Instagram with @theairfryerchef.