Most of us who cook at home regularly are looking for tools that make cooking better — whether that means faster, easier, more delicious, or all of the above. So it makes sense that certain cooking appliances claiming to do just that and air fryers have skyrocketed in popularity over the past few years.
But where do I begin? Researching, that's where! So earlier this year I decided to finally try one out. I've been cooking with it at home for the past couple of months now — everything from family dinners to quick snacks, which you can see for yourself since I have posted every single recipe I've made here on airfryerrecipes.net you can browse our easy and simple air fryer recipes here.
So I've researched and compiled the best air fryers that are great to choose from based on Size, Purpose, Extras, and of course Price.
What Is An Air Fryer?
An air fryer is a convection oven in miniature – a compact cylindrical countertop convection oven, to be exact. The name, however, can be a bit confusing as this air cooker does much more than a fry up diet-busting treats. It roasts, grills, fries, and even BAKES!
Learn how does an Air Fryer Works, How to use an Air Fryer, Common Mistakes, Troubleshooting plus all your Frequently Asked Questions Answered in this detailed article I worked on a while ago.
Check all you need to know about how to use your air fryer here.
Now let's Start,
Best Air Fryer 2020 by Size
Air fryers refer to the size of their models in terms of food quarts. The smaller model sizes are in the 2.2 to the 3.7-quart range, the larger model sizes are in the 5 to the 6-quart range, the extra-large model sizes are in the 8 and 16-quart range.
-Air fryers that range from 3 to 5 quarts are very popular for a range of versatile cooking.
-5.3 to 5.8-quart sized air fryers are well suited for 3 to 5 member families.
-2.2 to 3.0-quart sized air fryers are ideal for 1 to 2 family members.
-6.0 to 16.0-quart sizes have lots of cooking capacity with added functionalities for grilling, baking, and roasting.
What Size Air Fryer Do I Need?
Getting yourself the right air fryer can be a bit overwhelming when you find the market offers you at least 100 models manufactured by dozens of well-known name brands, as well as a number of generic clones in a number of available sizes.
The larger the air fryer capacity is, the larger the model will be, basic common sense.
Best Air Fryers for Small Kitchens
A good idea would be to measure the area where you would be placing the air fryer so you will know what size model to look for when shopping.
When you are limited to a small counter area where you would like to store an air fryer between usages, consider a standard 2 to 3-quart capacity air fryer which does not require a large amount of counter space.
There is also the 1.0 to 2.0-quart sized air fryers -which work well for single individuals and for frying snacks.
Best Air Fryers for Big Batches
If you're looking for a classy-looking air fryer that's versatile and big enough to cook for the whole family, then the Instant Vortex Plus is the way to go.
Instant Pot has become a household name when it comes to kitchen gadgets, and for good reason. This particular air fryer has a hefty 10-quart capacity, along with a range of functions.
Those functions include the ability to bake, roast, broil, dehydrate, and rotisserie. Safe to say, if you're looking for something to handle all kinds of kitchen needs, this air fryer may well be the way to go.
Best Multipurpose Air Fryer of 2020
Ninja is another big name in the kitchen gadget game. While the company is best known for its blenders, it also makes a great air fryer.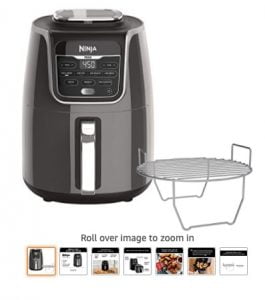 This particular air fryer should look great in any kitchen, thanks to its sleek black design, plus it's highly functional.
In fact, the 6.5-quart air fryer offers a number of different modes, including the ability to act as a pressure cooker, as the name suggests. Safe to say, if you want a pressure cooker and air fryer all in one, this is the way to go.
What Features Do I need In An Air Fryer?
Some air fryers come with accessories or tools to make cooking certain foods easier, such as skewers or toasters racks.
If your air fryer doesn't come with these accessories, there's a good chance the manufacturer sells compatible one separately.
Features you may want to consider for your air fryer purchase include controls, indicator lights and timers, presets and of course, price.
Air Fryer/ Oven Combo
Breville Smart Oven with Air Fryer – Available at Amazon for $399.95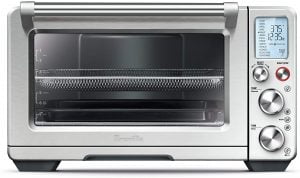 The Breville Smart Oven is an intelligent addition to any kitchen.
This model gives you the following functions: Air Fry, Bagel, Bake, Broil, Dehydrate, Cookies, Pizza, Proof, Reheat, Roast, Slow Cook, Toast, Warm.
Slow Cooker/Fryer Combo
Ninja Foodi Pressure Cooker & Air Fryer OP301 – Buy it for $229.99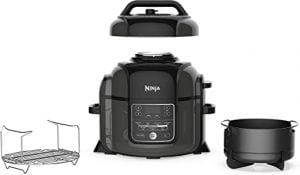 It features easy push-button controls that allow you to manually set the cooking time and temperature, as well as select between pressure, steam, slow cook, sear/saute, the air crisp, bake/roast, broil, and keep warm functions.
Pressure cooking takes place in a 6.5-quart ceramic-coated non-stick pot, while air frying is accomplished with the 4-quart cook and crisp basket.
This nonstick basket can handle a 5-pound chicken or up to 3 pounds of French fries. Top it off with the pressure lid or crisping lid, depending on the cooking style you wish to achieve.
Air Fryer/Instant Pot Combo
Instant Pot Duo 7-in-1 Electric Pressure Cooker, Slow Cooker, Rice Cooker, Steamer, Saute, Yogurt Maker, and Warmer, 6 Quart, 14 One-Touch Programs.
Available at Amazon for $99.99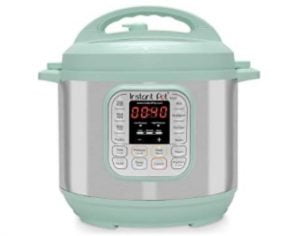 Cooks Fast and Saves Time: The Instant Pot Duo multi-cooker combines 7 appliances in one: pressure cooker, slow cooker, rice cooker, steamer, sauté pan, yogurt maker and warmer – and cooks up to 70% faster.
Best Air Fryer 2020
Air Fryer Accessories with Recipe Cookbook for Growise Phillips Cozyna Fit all Air Fryer 3.7QT – 5.3QT Deep Fryer Accessories Set of 8.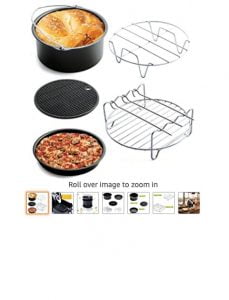 This 8-piece accessory kit will definitely help get you started. Each piece, while they all serve a different purpose, is about seven inches, which is a perfect fit for several air fryer brands (Gowise USA, Phillips, and Cozyna). Plus, it's FDA approved, BPA-free and dishwasher safe.
What Choices Do I Have When Buying An Air Fryer
With most kitchens appliances, it can be a hectic task to shop for them, given the multiple options available at your disposal.
So how then do you spot the best air fryers that are worth hard-earned?
Safe for Dishwashers
Ninja Air Fryer, the device is easy to clean, as all the components are dishwasher safe, plus handling the equipment is not at all problematic.
Overall, you do get a compact-sized air fryer that is capable of producing crispy fries and baked goods in a quick time.
Although it may seem a bit steep for the price, if you need a device that you can rely on any time of the day, this is one that is worth looking into.
Color Variations
Dash Compact Air Fryer. Its versatile design means that you could use it for your baked goods, French fries, and chicken wings.
Plus, it comes with a recipe guide manual with more than 15 options that go beyond fries. The sleek outlook and color options make it a device that can improve the aesthetics of your kitchen space.
Digital elements
Gourmia GAF635 Digital Air Fryer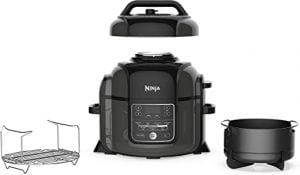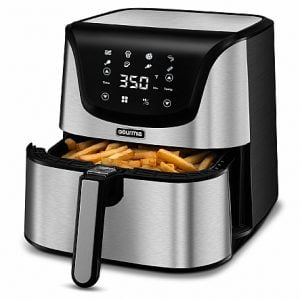 Finding a cooker or air fryer that works well for square meals such as pizza can be quite tricky since most of them come with a round-shaped design that makes for a small basket.
But this Gourmia GAF635 digital air fryer safe for use in making square-shaped meals thanks to its design and spacious basket.
Hands-off cooking / Simplicity
T-Fal Actifry Air Fryer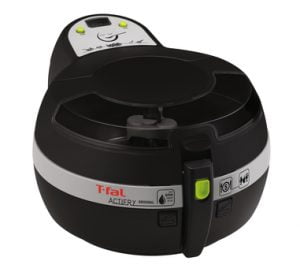 It provides a stress-free cooking solution, as it features a simple on and off switch with a digital countdown timer that buzzes when it elapses for easy monitoring.
The patented heat pulse system ensures that your food gets the right tender crisps, and the removable ceramic coated pan and paddle make it super easy to use the device.
Best Air Fryer under $100
Dash Compact Air Fryer – Available at Amazon for $43.99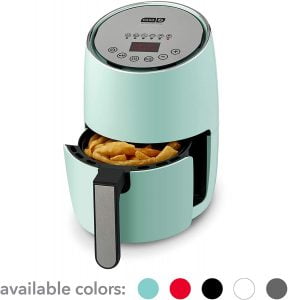 Money can be hard to come by, and so does the makers of the Dash 1.2 liters compact air fryer. For less than $100, you get a device that is super easy to use and equally suitable for all types of homemade delicacies that requires frying.
Another great option is the GoWISE USA Digital Air Fryer, buy it for only $79.00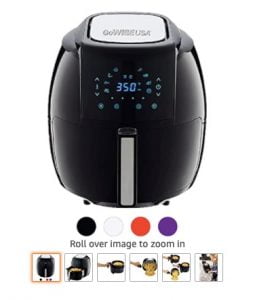 Looking for an Air Fryer under a Budget
Up to now, healthy eating and fried food haven't been in the same place; believe or not that's not the case anymore with air-frying technology.
Air Fryers crisps up food without the excess fat; in fact, you can even pick up a budget-friendly air fryer for under $100.
Best Overall Air Fryer to buy on 2020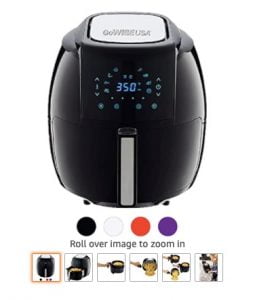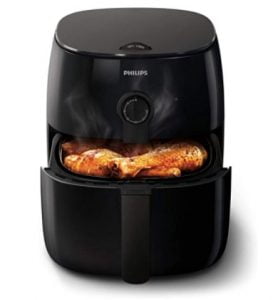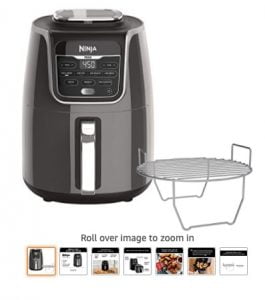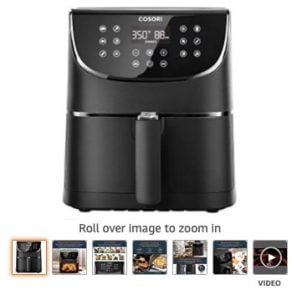 Sign up for our AirFryer Recipes Newsletter and automatically receive our latest & greatest delivered right to your inbox! Follow AirFryer Recipes on Facebook, Twitter, Pinterest and Instagram for all of the newest articles, recipes and meal plans!
Moreover, we love to hear from you so if you make an AirFryer Recipe make sure you take a picture and share it on Instagram with @ketosidedishes.