HOW TO CLEAN AN AIR FRYER
Now, we understand how much you love your air fryer and how much you love to use it and that is why you also need to remember to keep it clean.
Fryer baskets can get a little dirtier and greasier than other kitchen appliances and grease tends to cling due to continual use. So, when you think of how to clean an air fryer it might seem a scary thing to do. It's ok. We get you. It sounds like quite the chore, however you'll learn it doesn't have to be scary at all with our dummy proof guide below.
How Do You Clean an Air Fryer Before First Use
Now that you've made the big step of getting yourself an air fryer it is important to learn how to clean an air fryer.
Remember, your band new air fryer isn't like any other kitchen tool, it is an electronic kitchen gadget that needs to be properly managed.
First things first, remove the air fryer from its packaging and choose a suitable spot in your kitchen to place it. Also, take off the stickers or labels that were attached to the appliance to make better use of the machine.
Use hot water, washing-up liquid, and non-abrasive sponge to clean the basket and pan. At this time it is a good idea to check your user manual and make sure if your air fryer is dishwasher-safe.
You can now proceed to dry the basket and pan with a moist cloth before assembling them. Now, your appliance is ready for use.
The Easiest Way to Clean Your Air Fryer
Well, you might not like the answer, but the easiest way to clean your air fryer is to clean it every time you use it. (We warned you.)
Here's the good news: First, it's an air fryer, which means you're not cleaning up a greasy, gross, oily mess. Second, most air fryers have some parts that are dishwasher-safe, which makes cleanup basically as easy as pushing the "start" button on your dishwasher. And finally, when you clean your air fryer every time you use it, you don't end up with stubborn, hard-to-clean, yucky bits of who-knows-what. But here is an easy way to keep it clean.
How to clean an air fryer – Air Fryer Deep Cleaning
After using your air fryer a few times and making all kinds of frying goods, you may want to start thinking about in depth-cleaning. A hint that your air fryer needs deep cleaning will be the funky odor coming from your appliance.
For deep cleaning the best recommendations is to use vinegar or a combo of baking soda and white vinegar. This is really about preference, but is for a deeper clean between dish washer cleans. -Another idea for deep cleaning is to create a paste from mixing baking soda and water, then use a scrub brush.
What You'll Need
Baking Soda
White Vinegar
Scrub-brush
Non-abrasive sponge
Cloth
Dish soap
Water
How to clean the air fryer basket
Air fryer owners must know how to clean an air fryer, since that's pretty much covered above now we want to tell you about how to properly clean the air fryer basket. After using your air fryer you probably wonder how to properly remove grease from air fryer basket.
If the basket or pan has baked-on grease, soak it in hot water and soap for 20 to 30 minutes. Then remove the now-softened gunk with a scrub brush. To clean the interior, remove the basket, tray and pan to clean the inside of the air fryer.
With some air fryers, the accessories are dishwasher safe. If your frying basket is dishwasher safe, then you can just pop it in the dishwasher. Refer to the manufacturer's instructions to find out about dishwasher safety.
How do I clean my air fryer elements
Before even thinking about how to clean an air fryer, make sure to unplug it from the wall socket and allow it to cool completely. Remember safety first!
Clean the removable baskets and pans (frying basket, baking tray, etc.) with hot soapy water. (Read above for how to clean air fryer basket)
Clean the interior, for this you can use a soft cloth or non-abrasive sponge and hot water, clean the heating element. If there's any grease present on the heating element, add a small amount of dish soap to the cloth or sponge to help remove the grease. Then, wipe away the soap with clean, hot water.
Don't neglect the exterior, wipe the exterior with a moist cloth or sponge and a mild detergent. Avoid using glass cleaners, bleaches, or heavy cleaners. Also, never immerse the air fryer itself in water.
How do you clean the coils on an air fryer
We don't want to sound repetitive but, while you're at it, you might want to do a thorough job and that means cleaning all the annoying coils.
For this, you may want to turn the air fryer upside down to make cleaning the heating element easier. You can also use a soft-bristle food brush to remove any stuck-on dirt or particles and to remove the air fryer's interior thoroughly.
Wipe the interior completely with a non-abrasive sponge or cloth and hot water. You can use a very small amount of dish soap if needed to remove grease. Again, you can use a soft-bristle cleaning brush to remove stuck-on foods.
What Not to Do When Cleaning Your Air Fryer
You might be tempted to use a sharp object or a metallic kitchen utensil to pick food particles from the machine. This is a big no-no.
This is not advisable since it can damage the appliance's non-stick coating and which could affect its operation. Similarly, do not use abrasive cleaning materials on the machine.
Air Fryer Maintenance
Like all kitchen gadgets, you should properly clean and maintain your air fryer. If you don't clean your air fryer, it won't perform as optimally. Plus, it can accumulate smells and flavors, and those old flavors can transfer into other foods. Dirty air fryers can also build up grease, and that grease can cause your air fryer to smoke and reduce the quality of your food.
Remember, air fryers are easy to use, easy to cook with, and super convenient, but they won't last long, not without proper cleaning and maintenance.
Properly Storing the Air Fryer
After you clean your air fryer, allow it to dry completely, and then store it in its original box or in a clean and dry place (i.e. don't store it next to your stove top or right near your dishwasher).
Keeping Your Air Fryer in Optimum Working Condition
Clean your air fryer after each use to prevent it from accumulating food particles and building up grease.
Make sure you use the frying basket and pan as directed so your foods don't come into contact with the heating element.
Also, avoid overfilling your air fryer. When you put too much food in, it doesn't come out as good, has to cook for longer, and more grease and food particles can get onto the heating element.
Bottom Line
Now that you've become a professional on how to clean an air fryer, it becomes easier to manage it and therefore you are protecting your investment. How well you maintain it from the onset can go a long way to determine its durability. Now go cook something awesome!
I've been cooking with it at home for the past couple of months now — everything from family dinners to quick snacks, which you can see for yourself, since I have posted every single recipe I've made here on airfryerrecipes.net you can browse our easy and simple air fryer recipes here.
How do I clean my Air fryer Photo Guide
Fill the Air fryer pan with hot water to which you add some washing-up liquid.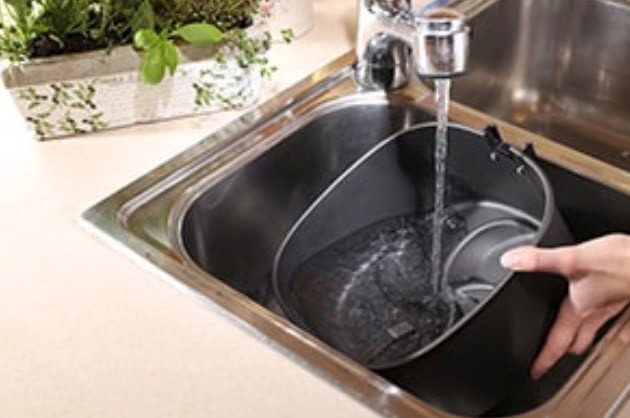 Let the pan with the basket inside soak for 10 minutes.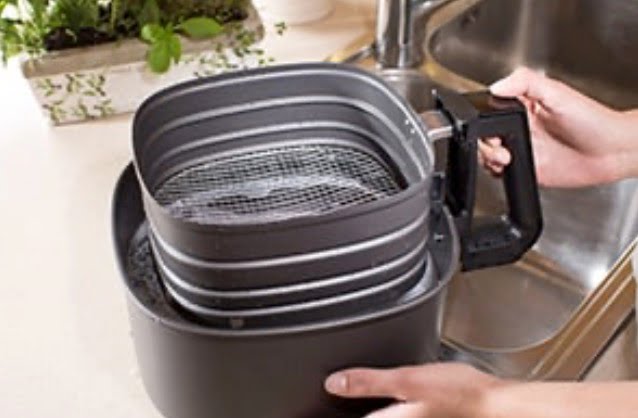 Clean the black basket walls with a non-abrasive sponge or brush.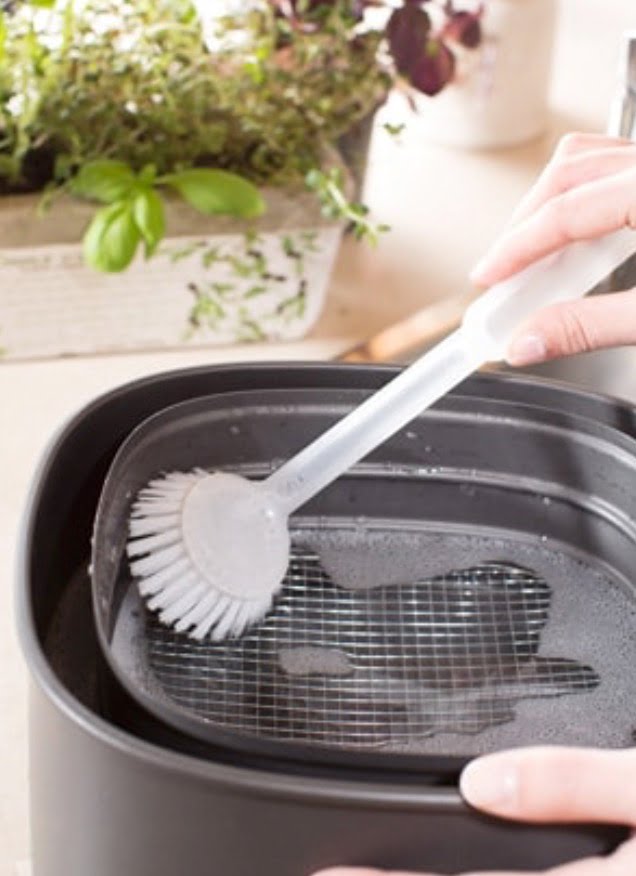 Turn the basket upside down. Scrub the basket bottom with a brush or a scouring pad.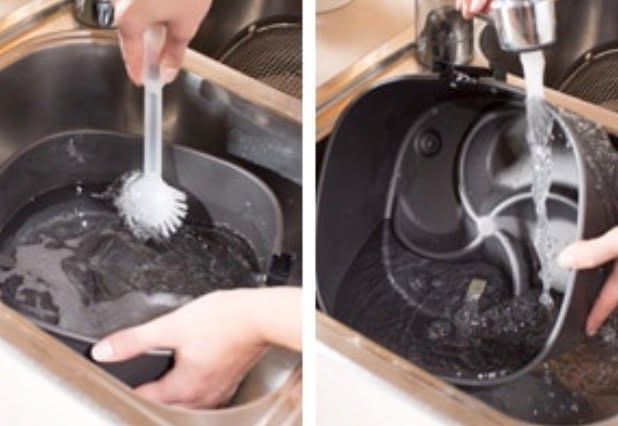 Clean the pan with a non-abrasive sponge.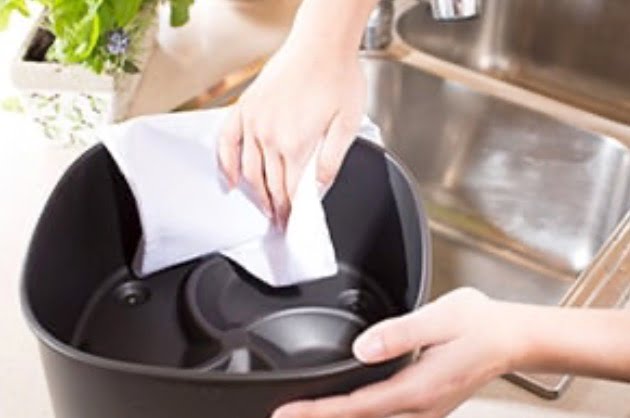 How do I clean my Air fryer Video