Air Fryer crab Rangoon go hand in hand, these yummy recipe is made to perfection in the air fryer and best part, you only need a fraction of the oil it usually requires in deep frying.
If you absolutely need to have Chinese food often than never, because you love it so much than crab Rangoon is certainly part of your vocabulary.
This heavenly tasty crisp dumpling appetizer is loved by people of all ages, so it's no surprise they are so popular.
Now if you have an air fryer, even better because you can make all kinds of recipes including the delicious, air fryer crab Rangoon.
What Is Air Fryer Crab Rangoon?
Crab rangoon consists of cream cheese, sometimes sweetened, plus small bits of imitation crab, stuffed into a wonton wrapper and deep-fried, served with a syrupy, neon sweet-and-sour dipping sauce. What's not to love right!
When scanning the starters at your local Chinese joint, crab Rangoon is the way to go. Every time you picture that blend of chopped crab, cream cheese, chives, salt, and pepper -all wrapped together to make one crispy and tasty bite. It's simply so tempting, it's impossible to pass on them!
So if you thought you can only have crab Rangoon when visiting a Chinese restaurant, we've got news for ya! Although it may seem like a lot of work to make these bad boys, it is actually a super simple recipe even kids can make.
To make it even more appealing you can prepare these using an air fryer. This is when air fryer crab Rangoon come together.
The key to a great crab Rangoon in addition to the tasty filling; is high in part due to its crunchy deep-fried shell crust that makes for a fun and fancy culinary experience.
This fried crust is key because we don't like our crab Rangoon saggy, don't we! So, making these in the air fryer makes all the sense because air fryers as we know, give you that fried impression thanks to its hot air technology -while avoiding having to use tons of oil in your food.
It can also be said that air fryer crab rangoon is more of a technique. These are actually pretty versatile; you can put in the filling anything you want.
So you can forget about heating up a huge vat of oil for a few wontons. Once you learn how to make crab Rangoon in the air fryer, you'll never ask for take-out again!
What Is A Wonton?
Before we get to understand what a wonton is, first, we need to talk about dumplings!
A dumpling is a broad term for a dough wrapped around a filling. Dumplings are found in cuisines all over the world from Italian tortellini and Japanese gyoza to any number of Chinese dumplings like potstickers, soup dumplings and, of course, wontons.
Now that we've cleared up the air on the dumpling matter, we can now pass on to the wontons.
A wonton is a type of dumpling made with a wonton wrapper and usually filled with pork, shrimp or cheese. The wrappers, a super-thin dough, is made of flour, egg, water, and salt. These come in two main shapes: circles or squares.
How To Make Air Fryer Crab Rangoon?
It is surprisingly easy and fun to make your own crab rangoon in the air fryer!
Make the filling by mixing together chopped crab, cream cheese, chives, salt, and pepper.
You can use canned crab meat that you can find refrigerated at most grocery stores and specialty Asian markets. Imitation crab can also be substituted, which is a cured surimi, or cooked seafood paste that is more affordable than real crab, and is often used in California rolls. Just make sure to chop into smaller pieces if using the imitation.
When thoroughly combined, place an about 1 teaspoon of filling in the center of each wonton. To keep the tasty filling locked into each wonton, the folding technique is critical. You can either choose to make them into a triangle or a pouch.
Triangle: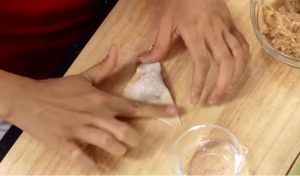 Working with one wonton at a time, brush the top 2 sides of wonton with cornstarch slurry with your finger.
Dabb a bit of water in 4 places on the wonton wrapper. Do this lined up with the four corners, but place the water near the filling, not at the edges. Fold the wonton into a triangle and press close to the filling to seal. Then bring in the ends and press to seal. You should be pressing where the water is, close to the filling.
Repeat with remaining wontons.
Pouch: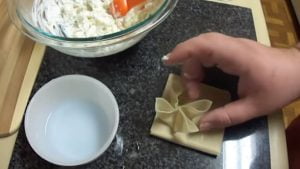 Working with one wonton at a time, lightly brush all four corners with cornstarch slurry.
Bring 2 opposite corners of the wonton together and pinch to seal.
Next, pull the other two corners up so all the tips are touching, pressing out any excess air.
Press the tops together to seal, then work your way down to tightly seal the edges. It is okay if the edges don't evenly meet, as long as they are sealed closed.
Once the air fryer has been preheated, spritz the basket with oil of your choice, add the wontons in a single layer in the basket, spritz again. Select the air crisp function on 300°F/149°C. Air Crisp for 5 minutes. Then turn each one on its side and AC for another 3-5 minutes. Place crab Rangoons should be golden brown in color and crispy.
Remove and allow to cool on a cooling rack until you are ready to serve. Serve with your favorite dipping sauce and enjoy!
Tips To Make Air Fryer Crab Rangoon
When making crab rangoon in the air fryer, other than the filling; you are basically dealing with wontons. These are fairly straightforward to work with once you get the hang of it so you shouldn't feel intimidated by them.
Here are a few basic tips you may find useful
Don't overfill them: At an absolute max does one tablespoon of filling per wonton. If you do, you run the risk the crab rangoon could explode while frying.
Use water to seal: You can also use an egg wash, but water works just as well. Paint the edges of the wonton with water, and then crimp the corners up to the center.
Press out the air: When sealing the wonton, try to press out as much air as possible. If you have too much air in the filling, it will balloon up while frying and cause the wonton to burst open.
Use parchment: Placing the stuffed crab rangoon on parchment paper is important so they don't stick, otherwise, they can stick to a cutting board/other surface and tear.
Work in batches. This is a pretty basic rule when using an air fryer.
How To Make Air Fryer Crab Rangoon With Sweet and Sour Sauce
The Air Fryer crab rangoon isn't the same without a yummy sweet and sour sauce! The tangy sauce brings out the flavor of the crab filling. And of course, you can also make it at home.
Once you get the crab rangoon out o the way, next you need to focus on your sauce because these babies are not completed until you drench them in delicious sweet and sour sauce.
For an out of this world sweet and sour sauce, here is what you:
Asian chili sauce: adds flavor but will not make your dipping sauce spicy. Of course, you can always add more or less to taste.
Red wine vinegar: has a distinct flavor and is best not to swap out for another vinegar in this scenario.
Pineapple juice: canned pineapple juice is perfect for something like this.
Soy sauce: use reduced sodium.
Sugar: granulated sugar is best here, use more or less to taste.
Seasonings: a pinch of salt and ginger powder enhance the flavors.
Ketchup: is a must.
Simply combine the ingredients and simmer, and you're all set!
How Long To Air Fry Frozen Crab Rangoon?
The time you'll use to make your crab Rangoons in the air fryer after they've been frozen -will depend whether they were stored cooked or uncooked.
If they are already cooked, time is around 8 minutes. If they are uncooked, then is obviously a bit longer, between 10 and 12 minutes. Check out the section below for specifics.
Can I Freeze Air Fryer Crab Rangoon And How To Air Fry Crab Rangoon From Frozen
Yup! you can freeze crab rangoon before or after you cook them. But cannot be refrigerated uncooked.
So let's say you have leftover crab wontons, want an easy dinner for later, want to eat one Rangoon at a time for a snack or want an easy appetizer that you just pull out and cook -freezing definitely works in any of those scenarios.
Wonton wrappers dry out very quickly and will become brittle when refrigerated if they have not been cooked, which will cause them to tear and leak when baked or fried. It is better to freeze uncooked crab wontons instead of refrigerating them.
Once they are completely frozen, you can put them in a freezer bag and store in the freezer until you are ready to use them. They should last a few months in the freezer.
To air-fry from frozen:
If they are cooked already, you can use the Air Crisp function on 330° F for 8 minutes. You do not need to preheat when they are already cooked.
If they are not cooked, use the same temperature, but you will probably have to cook them for 10-12 minutes. Don't forget to spritz them with a little oil for the best results. You will want to preheat on broil for 10 minutes before cooking.
Our Top Air Fryer Crab Rangoon Recipes
Are you inspired already to make your own Crab Rangoon? We've got you covered! Check out below our three favorite recipes to make these incredibly delicious bad boys!
Make sure to pick your favorite and get ready to delight yourself and others with any of these easy peasy recipes.
Looking for the perfect wonton recipe to make at home? Then this air fryer crab Rangoon recipe is just what you need!
Homemade crab Rangoon is so easy even kids can do it. All you need is a few simple ingredients and your trusted air fryer.
In just minutes you and the entire fam can enjoy crispy bites filled with crab and cream cheese. It is heaven!
Sign up for our AirFryer Recipes Newsletter and automatically receive our latest & greatest delivered right to your inbox! Follow AirFryer Recipes on Facebook, Twitter, Pinterest and Instagram for all of the newest articles, recipes and meal plans!
Moreover, we love to hear from you so if you make an AirFryer Recipe make sure you take a picture and share it on Instagram with @theairfryerchef.