Are you a fan of fish sticks? Then this is your lucky day! Frozen fish sticks in air fryer are exactly what you need when craving for your favorite snack but want to stay away from the hassle of doing the deed.
Crunchy and delicious fish sticks are frequently consumed at my house and let me tell you, they go fast! And what's not to love, in just minutes you can enjoy nice perfectly golden brown color sticks paired with your favorite tartare sauce.
Fish sticks make the perfect appetizer as well, you can enjoy these at your next gathering with family and friends, guaranteed to become a hit with everyone.
The best part about cooking frozen fish stick in the air fryer is that the hot circulating air makes the fish sticks crispy without having to oil them. So as you can see, frozen fish sticks are better air fried than a regular oven.
Convinced yet? Here you'll find out everything you need to know to cook perfect frozen fish sticks using your handy air fryer. You'll be happily surprised at how crispy these fish sticks come out.
The Equipment
In order to obtain perfect fish sticks every single time, we need to talk about the equipment first.
All air fryers are different and some cook much hotter than others. Once you cook your first batch, you'll know more of what works for your specific air fryer model.
There are three main types of air fryers; there's the paddle-type air fryer, the basket-type air fryer and the countertop convection oven.
The paddle-type air fryer models save you the hassle of pulling your food out at just the right time to shake and stir it. Instead, a paddle inside the machine moves through the basket to help the air get through more easily.
Convection oven air fryers are similar to toaster or convection ovens, with racks to place food on and added air frying functionality.
The basket air fryers are popular because the basket usually has a handle for easy tossing.
As the name implies, these air fryers cook your food in a basket. Since the basket has holes all around, it's easier for air to get through your food, although you'll still have to stir it at least once during the cooking process. One of the downsides of these models is that the holes prevent you from making anything too soupy or saucy.
Though there are many air fryers on the market, it is highly recommended to use basket style air fryer for your frozen fish sticks.
Many consider the best basket air fryer to be the Philips Airfryer. It comes with intuitive controls and quality build, it is great for cooking a variety of crispy dishes on the daily.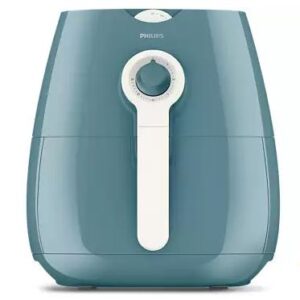 Photo credit: Philips
Take a look at its components:
Size: Philips has a small air fryer (2.75 quarts) as well as an XXL version (4 quarts). In both versions, the roomy basket, could fit two layers of food.
Look: The Philips AirFryer comes in black. Its compact design makes it easy to store, though it makes a slick addition to your countertop appliances.
Function: This air fryer produces some of the crispiest results due to the way air can flow through the basket.
There are accessories that go inside the air fryer that can make it more useful too. Look for utensils such as cake pans, silicone molds, ramekins, racks, and other cooking devices that can fit inside your air fryer basket.
These can make a huge difference and will help you make a much wider variety of foods in your air fryer without having to worry about spillage, overflow, or burning, so you can get as much use out of your new device as possible.
Here are some of the accessories you may find handy when cooking with your air fryer:
1. Light Snack Kit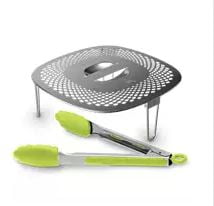 2. Airfryer XXL Accesory Kit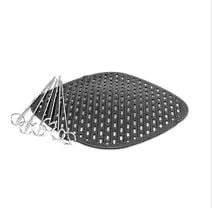 3. PArty Master Kit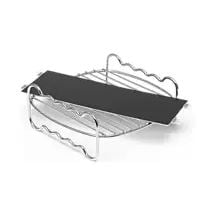 Here is the link where you can find them.
The Ingredients
All the ingredients you need is your bag of frozen fish sticks
Frozen fish sticks
Oil of your choice (Oil is optional and is not necessary)
The Process
Just like any other frozen snack, this recipe requires zero prep. Contrary to what you may think thawing, is not necessary.
Then cook up frozen fish sticks perfectly and consistently, with a slight crisp to the outer edges, in the air fryer.
Place the frozen breaded fish sticks in the air fryer basket. Make sure they aren't overlapping.
Air Fry at 400°F/205°C for 8 minutes. Flip the fish sticks over and then continue to cook at 400°F/205°C for another 2-4 minutes or until cooked through and the coating is crispy.
Other key tips to the process of making perfect and delicious frozen fish sticks are
Do not thaw first, cook frozen and zero amount of oil is necessary.
Don't overcrowd the air fryer basket. Lay in a single layer.
Recipe timing is based on a non-preheated air fryer.
Remember to set a timer to flip/toss as directed in recipe.
Do I need to defrost frozen fish sticks before air frying?
Just to be clear, some of the most common questions about air frying frozen fish sticks include this one. And the answer is no, you don't need to defrost your frozen fish sticks or fish fingers prior to air frying.
Because they are frozen food there is no prep to worry about.
How long do you cook frozen fish sticks?
There's several things which affect how the frozen fish sticks cook. They all vary in size, thickness, type and heaviness of the breading so you'll have to adjust timing.
Your first air fried frozen fish sticks batch will be like your "test". After cooking the first round, you'll know more of what your final time will be in your specific air fryer. After that, you'll be able to cook your air fried fish fingers quickly and efficiently.
Also, and very important, make sure to cook them in single layers with some space between them. They'll cook more evenly and crispy when you don't stack them on top of one another.
Also, bear in mind that, if your air fryer is preheated or if you are cooking multiple batches, you may need to reduce timing by a few minutes as the following batches may cook a little quicker.
Be ready to shake or turn, you can set a timer if needed and always remember not to overcrowd the air fryer basket.
Should I freeze frozen fish sticks before frying?
It really depends on when you want to eat your frozen fish sticks.
If you want to consume your fish sticks as soon as you come back from the market, then keep them outside. However, if you want to enjoy this delicious app some other time, then keep the bag in your freezer.
What sauce goes perfectly with frozen fish sticks?
This is another personal choice. Some prefer the classic tartare sauce while others just like add a drizzle of lemon to go along with their warm and delicious fish sticks.
Other popular dipping sauces for fish sticks include a Bang Bang sauce, Herb Dip, Cocktail Sauce, BBQ Sauce, Honey Mustard and Ranch.
For the Bang Bang sauce you can follow the next recipe
3/4 cup mayonnaise
1 tablespoon honey
1 tablespoon sriracha
1 tablespoon sweet chili Sauce
1/4 teaspoon garlic powder
Just mix together and serve alongside for dipping.
If you, like me, stick with the classics. Here's the recipe for tartare sauce
1/2 cup mayonnaise, try homemade mayonnaise
1 small dill pickle, chopped very small (3 tablespoons)
1 tablespoon fresh lemon juice, plus more to taste
1 tablespoon capers, chopped, optional
1 tablespoon chopped fresh dill or 1 teaspoon dried dill
1/2 to 1 teaspoon Worcestershire sauce
1/2 teaspoon Dijon mustard, optional
Salt and fresh ground black pepper
For a healthier option, you can replace mayonnaise with Greek yoghurt.
Combine the mayonnaise, pickles, lemon juice, capers, dill, Worcestershire sauce, and mustard in a small bowl and stir until well blended and creamy.
Season with a pinch of salt and pepper.
Keep, tightly covered, in the refrigerator for one week.
All options go great with these babies.
What are the best frozen fish sticks brands?
Check out some of our favorite picks
1. Gorton's, Crunchy Breaded Fish Sticks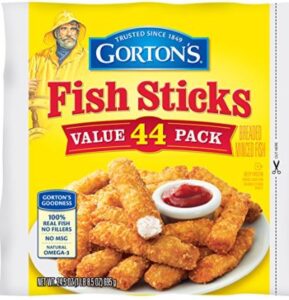 2. 365 Everyday Value, Lightly Breaded Fish Sticks, 32 oz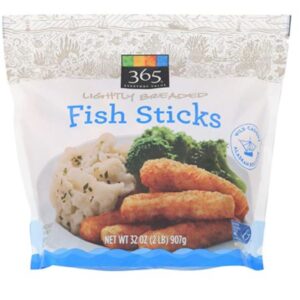 3. Dr. Praeger's Lightly Breaded Fish Sticks, 13 Ounce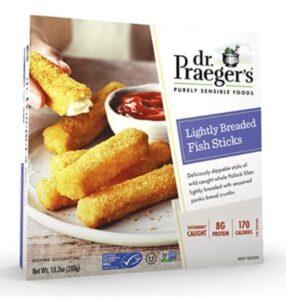 4. Trident Seafoods, The Ultimate Fish Stick, 15 oz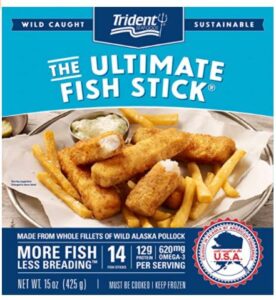 How to reheat frozen fish sticks
Reheating fish sticks in the air fryer is amazing. They get that first-day crispy crunch on the outside that's lost when microwaving leftovers while the inside stays fresh and flaky.
Preheat your air fryer to 400 degrees.
Place fish sticks inside the air fryer and cook for 1-2 minutes until thoroughly heated.
Remove the fish sticks from the air fryer and enjoy!
The secret for making GREAT frozen fish sticks
Thinking about making your own fish sticks instead? Why not! Freshly made fish sticks can be frozen for consumption at a later date.
There are a few secrets to making amazing fish sticks
First, you must select the right pan
Be sure to cut your fish evenly
The next secret is to remember to season well
Cover the fish strip entirely with the bread crumbs
Place in a single layer in the air fryer and set to 400 degrees for 10 minutes, flipping after 5 minutes. Add an additional 2 minutes if needed.
You can bread the fish pieces and fry them (or bake them), cool completely and freeze on a parchment paper lined baking sheet. Then transfer into a freezer-safe bag and freeze for up to 1 month.
Tips for making frozen fish sticks
For best results, check out the following tips
Start by cutting fish fillet into 3/4″ wide strips
Prepare the breading station in three shallow dishes: one with flour, one with egg and one with breadcrumbs
Dip each fish piece into flour first, then egg, then breadcrumbs
Tilapia or Haddock will work in place of cod fillets
Panko bread crumbs give these fish sticks the best texture, but feel free to use unseasoned regular bread crumbs if that is all you have
How do you make frozen fish sticks taste better?
When freezing anything, loosing flavor is inevitable, but if frozen properly it will take a long time.
If you plan to eat your fish sticks within 1 month, you shouldn't notice any flavor loss.
You can always elevate the taste of your fish sticks by whipping up your favorite dip.
Can frozen fish sticks be thawed and refrozen?
Thawing your frozen fish sticks is super easy. Simply remove the desired quantity of fish from your freezer bag and thaw fish fingers on a paper towel to allow any excess moisture to be absorbed.
Then re-seal the bag with the remaining fish sticks removing any excess air, and place back in the freezer.
How to keep frozen fish sticks fresh?
To keep your fish sticks fresh, it is highly recommendable to remove all of the air from the storage bag. You can do this by using a vacuum sealer, as a result, the storage time will be increased and your sticks will remain as fresh as possible for longer.
How to stock your freezer with frozen fish sticks or use make-ahead frozen fish sticks
Fish Sticks are best served warm right from the oven. If you do have leftovers, it is highly recommendable to freeze the leftovers and then reheat in the oven, this will keep the fish sticks crispy and crunchy, instead of soggy if they were to be reheated in the microwave.
Leftover fish sticks are best frozen after cooling and then reheated in a 400-degree oven until warmed through, about 15 minutes.