Are you a fan of jalapeno poppers? Then you are in for a real treat! Frozen jalapeno poppers in air fryer are the right answer when craving for a yummy snack but want to avoid going through the hassle of making it fresh.
These babies are a frequent request at my house and let me tell you they don't last long. The combination of spice, fried jalapeño peppers, rich cream cheese, parmesan, and crunchy texture hits all the right spots, every single time.
Jalapeno poppers make the perfect holiday appetizer, and really you'll be looking for any excuse to make them.
The best part about going for frozen jalapeno poppers is that you can either make your own delicious spin and keep them frozen or you can choose from the different varieties; how about Cheeseburger Stuffed Jalapeño Poppers, Jalapeño Bacon Cheese Ball or Jalapeño Popper Dip sounds? Well stop imagining and get your air fryer going so you can enjoy these in no time.
Here you'll find out everything you need to know to cook perfect frozen jalapeno poppers using the air fryer. You'll be pleasantly surprised at how crispy on the outside and perfectly melty on the inside these poppers come out.
The Equipment
In order to obtain perfect jalapeno poppers, we need to talk about the equipment first.
If you recently realized that air fryers are a must have kitchen appliance, then good for you. For some it isn't a simple decision, specially when you think you own so many appliances already. Well when it comes to the air fryer, you simple won't regret it. Air fryers are fantastic for frozen food. Frozen foods are great for quick and easy meals and make excellent appetizers for movie nights at home. You can enjoy delicious snacks like jalapeno poppers in just minutes and continue to enjoy life.
That said, lots of factors influence the outcome of how the jalapeño poppers cook. They all vary in size and sometimes the coating, how much they are filled, etc. so you'll have to adjust timing as needed.
Cook in just a single layer. If needed cook in multiple batches.
All air fryers are different and some cook much hotter than others. Once you cook your first batch, you'll know more of what works for your model of air fryer and size of food.
Though there are many air fryers on the market, it is highly recommended to use basket style air fryer for your frozen jalapeno poppers. The other types would be, the convection oven air fryers and the paddle-type air fryers.
The basket air fryers are popular because the basket usually has a handle for easy tossing.
As the name implies, these air fryers cook your food in a basket. Since the basket has holes all around, it's easier for air to get through your food, although you'll still have to stir it at least once during the cooking process. One of the downsides of these models is that the holes prevent you from making anything too soupy or saucy.
Many consider the best basket air fryer to be the Philips Airfryer. It comes with intuitive controls and quality build, it is great for cooking a variety of crispy dishes on the daily.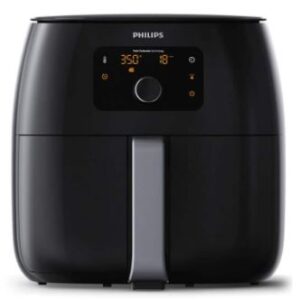 Photo credit: Philips
Check out some of its components:
Size: Philips has a small air fryer (2.75 quarts) as well as an XXL version (4 quarts). In both versions, the roomy basket, could fit two layers of food.
Look: The Philips AirFryer comes in black. Its compact design makes it easy to store, though it makes a slick addition to your countertop appliances.
Function: This air fryer produces some of the crispiest results due to the way air can flow through the basket.
The Ingredients
All the ingredients you need is your bag of frozen jalapeño poppers.
6-8 frozen jalapeno poppers
The Process
Just like any other frozen snack, this recipe requires zero prep. Contrary to what you may think thawing first is not necessary.
Then cook up frozen poppers perfectly and consistently, with a slight crisp to the outer edges, in the air fryer.
Keep in mind that if your air fryer is preheated or if you are cooking multiple batches, you may need to reduce timing by a few minutes as the following batches may cook a little quicker.
Be ready to shake or turn, you can set a timer if needed and always remember not to overcrowd the air fryer basket.
1 Simply arrange the frozen poppers in your air fryer in a single layer. No oil spray is needed.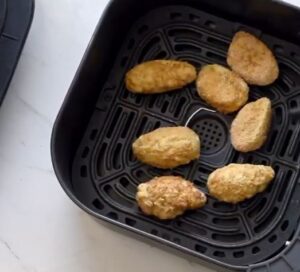 2 Air Fry at 380°F/193°C for 5 minutes. Gently shake or turn. Continue to Air Fry at 380°F/193°C for another 2-4 minutes or until the cheese just starts to ooze out.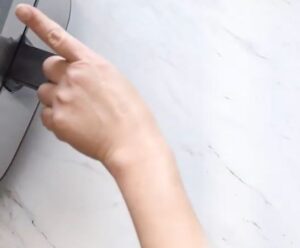 3 Make sure to let them cool a little before eating. The filling is usually extremely hot.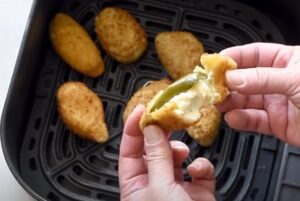 Do I need to defrost frozen jalapeno poppers before air frying?
Just to be clear, some of the most common questions about air frying frozen jalapeno poppers include this one. And the answer is no, you don't need to defrost your jalapeno poppers prior to air frying.
Because they are frozen food there is no prep to worry about.
How long do you cook frozen jalapeno poppers?
There are varying types of jalapeño poppers. Some come coated with batter and some come wrapped with bacon.
Because of this, their respective cooking times can vary as well. Their sizes can also affect their overall cooking time, so don't forget to keep this in mind.
Jalapeños have quite sensitive skin, making them prone to blistering. If you're frying them as is – without breading or bacon to protect the outer layer – they can burn easily.
To prevent this from happening, start by following the steps below.
Preheat your air fryer to around 340 degrees Fahrenheit for five minutes.
Then, place the jalapeño poppers in a single layer at the bottom of the basket.
While you don't have to use oil, you may want to use a liner to prevent cheese from going through the bottom.
Air fry them for four minutes.
Give them a toss or turn them over and continue cooking for another two minutes for a crispier and more pronounced texture.
Remove and enjoy
For breaded jalapeno poppers, cooking time is just 8 minutes at 170c.
One thing is for sure, if you air fry them too long, all the cheese will run out and nobody wants or needs that.
Should I freeze frozen jalapeno poppers before frying?
It really depends on when you want to eat your jalapeno popper.
If you want to consume your jalapeno poppers as soon as you come back from the market, then keep them outside. However, if you want to enjoy this delicious app some other time, then keep the bag in your freezer.
What sauce goes perfectly with frozen jalapeno poppers?
This is another personal choice. Some prefer a spicy hot Mexican dipping sauce while others go for a a sweet dipping sauce to along with their warm and delicious breaded jalapeno poppers.
Other popular dipping sauces for jalapeno poppers include a Lime Cilantro Dip, Raspberry sauce, Thai sweet chili sauce and Pineapple chutney.
For the Raspberry sauce all you need is to heat some Raspberry jam and make it thin by adding a little water. Voila!
You can do so in the microwave, take 4 tablespoons of Raspberry Preserves/jam and 4 teaspoons of water, mix well with fork. Heat for 20-30 seconds, or until warm.
All options go great with these babies.
What are the best frozen frozen jalapeno poppers brands?
Here are four of our favorite brands and the Amazon links, for you to check them out.
1. T G I Fridays Popper Cream Cheese Stuffed Jalapeno, 8 Ounce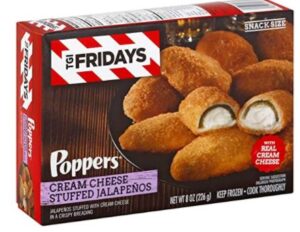 2. Cream Cheese Stuffed Frozen Jalapeno Poppers – 8oz – Market Pantry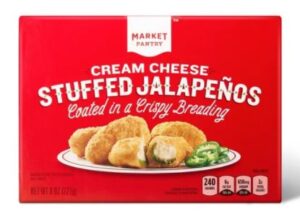 3. Farm Rich Breaded Jalapeno Peppers, Stuffed with 100% Real Cream Cheese, Frozen, 18 Ounces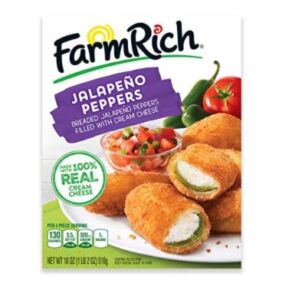 4. McCain Poppers Breaded Ovenable Cream Cheese Stuffed Jalapeno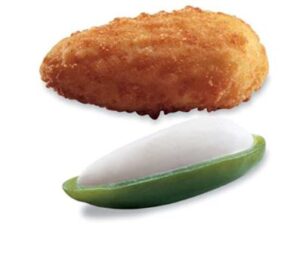 The secret for making GREAT frozen jalapeno poppers
Thinking about making your own jalapeno poppers instead? Freshly made stuffed jalapeno poppers can be frozen for consumption at a later date.
The key here is not to cook jalapeno poppers prior to freezing.
Tips for making frozen jalapeno poppers
Bear in mind that the consistency of the cream cheese in your poppers, is altered when frozen. For best results, check out the following tips:
Avoid preparing jalapeno poppers with low-fat and non-fat cream cheeses, as they don't retain their creamy texture through the freezing process as well as those higher in fat content.
If you are using a recipe that calls for jalapeno poppers to be breaded, the breading can either be applied prior to or after freezing.
To make sure the breading sticks, first dip stuffed jalapeno poppers in milk, then dredge in flour and let dry for a few minutes.
Once the flour layer has dried, dip the jalapeno popper into milk once more, then coat in bread crumbs.
How do you make frozen jalapeno poppers taste better?
When freezing anything, loosing flavor is inevitable, but if frozen properly it will take a long time.
If you plan to eat your jalapenos within 6 months or so, you shouldn't notice any flavor loss.
For better taste purposes, jalapeno poppers stuffed with cream cheese are best consumed within this time.
You can always elevate the taste of your jalapeno poppers by whipping up your favorite dip, if your peppers are too limp, that is.
Can frozen jalapeno poppers be thawed and refrozen?
Thawing your frozen jalapenos is super easy. Simply remove the desired quantity of peppers from your freezer bag and thaw jalapenos on a paper towel to allow any excess moisture to be absorbed.
Then re-seal the bag with the remaining jalapenos, removing any excess air, and place back in the freezer.
How to keep frozen jalapeno poppers fresh?
To keep your jalapeno poppers fresh, it is highly recommendable to remove all of the air from the storage bag. You can do this by using a vacuum sealer, as a result, the storage time will be increased and your poppers will remain as fresh as possible for longer.
How to stock your freezer with frozen jalapeno poppers or use make-ahead jalapeno poppers
Using a cookie sheet, arrange stuffed jalapeno poppers for a couple of hours.
Do not cook jalapeno poppers prior to freezing. If blanched before freezing, they may not have the same crunchiness as a truly fresh pepper.
You should know that it is possible to freeze pre-cooked jalapeno poppers. That said, they will not crisp up as well as uncooked ones after being frozen and re-heated.
Remove the hardened jalapeno poppers from the freezer and arrange them in a single layer in a freezer storage bag.
If your jalapeno poppers are breaded, be mindful to place them in a single layer. This will avoid the crumb coating from falling off.
Eliminate as much air as possible from the storage bag to increase storage time.